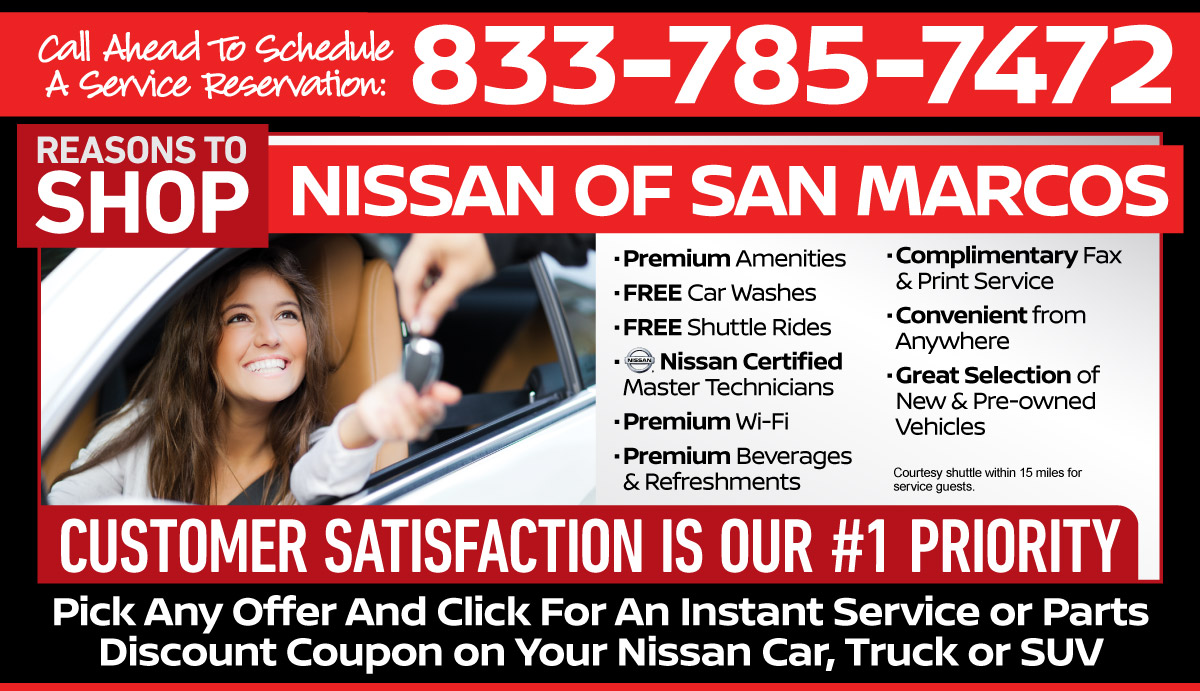 *Present coupon when written. Offers cannot be combined. Not valid on previous sale. Expires 7/31/19. ©2019 Strong Automotive Merchandising. All Rights Reserved.
Nissan of San Marcos Service Specials
Is it time for your oil change or is your A/C acting up? We're here to service your vehicle fast and efficiently. We offer discounts on common service needs and competitive pricing. Our goal is to ensure that every Austin, Bastrop, Taylor and Pflugerville driver gets the best deal and walks away with a smile – and a properly working car! Come to see our skilled Nissan factory-trained mechanics in San Marcos for all your automotive service needs. If you need an alignment, new tires, or brake inspection, Nissan of San Marcos is ready to handle it for you.
Save Big on Parts and services with Nissan of San Marcos
Here at Nissan of San Marcos, our goal is to make sure every customer gets a fair price for his or her services. We always have lots of deals and sales on not only oil changes and tire rotations, but on parts and accessories, too! We understand that value is important, and that's why we make sure that you get the most bang for your buck. Click any of the offers above to receive an instant discount coupon for your Nissan car, truck, or SUV. Then schedule a service appointment and come into Nissan of San Marcos to see our skilled Nissan factory-trained mechanics. Also, visit our eSTORE to see our great prices on parts, accessories, and merchandise!
Nissan of San Marcos vs. Independent Repair Shop?
At Nissan of San Marcos, you will be guaranteed genuine Nissan parts. These parts will adapt better to your vehicle, they will provide a safer, more comfortable drive. They will also provide better performance due to the compatibility of the parts to your car. Along with original Nissan parts, Nissan of San Marcos has Nissan factory-trained professionals to help you with your car. These people will know the specifics of not only Nissan cars in general but about your specific model and year. They will be able to recognize common problems and risks associated with a certain service or accident and advise you about them. These Nissan technicians will also be aware of any recalls that you may not have been notified of. At Nissan of San Marcos, you don't have to sacrifice expert service or convenience for low prices. Our combined first-rate mechanics, friendly customer service staff, and incredible discounts will surely make your experience at Nissan of San Marcos to better than anywhere else.
We are committed to providing you with a friendly customer service experience, so whether you have a new Nissan, a pre-owned Nissan, or a used car from another brand, bring it to us and we'll see that your car gets fixed up right. Schedule a service appointment online today, print your coupon below, and see your Nissan of San Marcos Mechanic and you'll be well on your way to having your car back on the road and running like new.